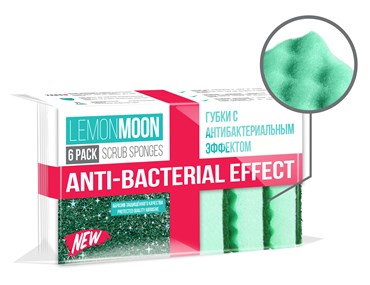 NEW! LEMON MOON Anti-bacterial effect
NEW ANTI-BACTERIAL product line by LEMON MOON.
Dear partners!
We are glad to announce a NEW ANTI-BACTERIAL product line for household cleaning by LEMON MOON brand:
SCRUB SPONGES: wavy surface foam and TERSO premium high-density abrasive with shiny bright particles.
MULTIPURPOSE PRINTED CLEANING CLOTHS: highly absorbent, contain 80% natural viscose fibers.
SPONGE CLOTHS: Absorb up to 12 times its own dry weight! Specially designed for kitchen and bathroom surfaces.
Antibacterial additive prevents bacteria from proliferation and keeps the cloths and sponges fresh longer. Now your home is under the reliable protection of LEMON MOON Anti-bacterial.
Always yours, LEMON MOON